What exactly is the difference between a "start-up" and a "scale-up"? Both terms seem to be used interchangeably by journalists, investors and entrepreneurs, but they are very different beasts.
As we embark on the next phase of our journey as a business here at Shieldpay, it's worth exploring what it means to transition from start-up to scale-up – and why it matters.
What's in a name?
The term "start-up" might seem like a product of the Information Age, but its usage actually dates back to 1550. It was first used in the modern sense by Forbes magazine in 1976, which referred to"the unfashionable business of investing in startups in the electronic data processing field."
A start-up is a company (typically one operating in the tech sector) at the start of its business journey. This means it's still yet to achieve product-market fit, whereby it has created a core product that customers are willing to pay for.
Start-ups come in all shapes and sizes – we're not just talking about one-man bands operating out of cramped offices like Jeff Bezos in the early days of Amazon, or even seeded start-ups hustling out of co-working spaces and seeking to hire their first employees. For a long time, Facebook remained a start-up, one with huge scale but no advertising platform to monetise interest from corporates. Even an established company like Looker, that's raised $103 million in its Series E financing, can be classed as a start-up.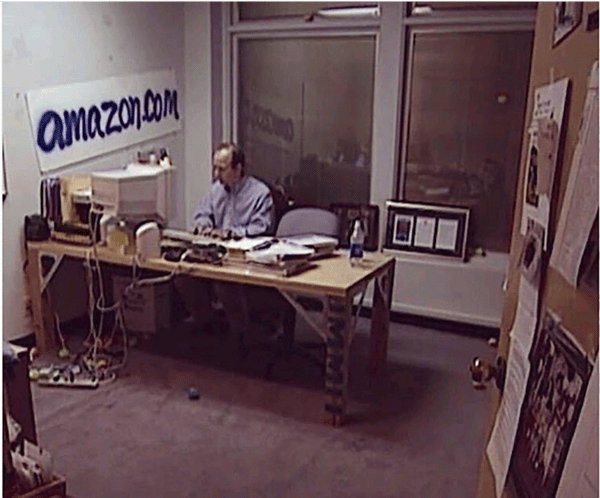 Jeff Bezos in his office during the early days of Amazon.

In the process of getting traction, start-ups need to experiment with different products and different customer segments in order to find something that works. This process of iteration takes time, money, creative thinking and stamina. 9 out of 10 start-ups fail because they lack one (or more) of these qualities.
A scale-up is a company that has achieved product-market fit, established traction with customers and is now looking to scale. Usually, this means it has solid unit economics (meaning the cost of acquiring users is sustainable relative to their lifetime value). Scale-ups tend to focus on growth as their key metric.
The investment picture
Scale-ups are not necessarily more investable than start-ups, since the risk-reward trade-off is complex and VCs have developed effective business models for spreading risk and picking winners. But it's fair to say scale-ups pose less risk than fledgling businesses that are yet to validate their business models. For many years, the European venture capital scene preferred scale-ups to start-ups, since it had lower risk tolerance than investors in the US, where the start-up scene was far more developed. Thankfully, this is now changing and Europe's start-up ecosystem is thriving.
Unlike start-ups, which are resource constrained and therefore require founders to work across several different business functions in order to get stuff done, scale-ups tend to be staffed by teams with clear division of labour. Since scale-ups are typically revenue generative (or funded by investors) they are able to hire specialists and entire teams to scale their offerings. With increased growth comes increased overheads, and not always in that order!
From starting-up to scaling-up
Scale-ups might look and feel a bit like start-ups, but they are different animals. Many a scale-up has failed because it simply couldn't make the transition from start-up status to that of a company focused on expansion and durability, with ever increasing market access, revenues, and employees.
Costs need to be managed to ensure that unit economics are sustainable over the long run. Many, many scale-ups fail this test, and ultimately fold when they have burned through their funding runway. Just look at food delivery start-up Munchery, which closed its doors in January 2019 after raising $125 million but failing to compete in a crowded marketplace.
Others are able to keep raising capital from investors, but this can't go on forever. At some point, all scale-ups need to stand on their own two feet and demonstrate that their business model is viable without external funding. It took Airbnb 8 years to become a profitable enterprise. Investors are patient, but they won't wait forever.
Navigating the transition from start-up to scale-up is challenging - it requires long term vision. And it means founders and managers must build out the business around them, relinquishing control over key functions. Having a strong sense of purpose and culture can help to facilitate this process, aiding talent acquisition and retention over the long run.
Our journey
Like most technology companies, Shieldpay began life as a start-up. Back in 2016, we started building our product with the aim of eliminating payment fraud in peer-to-peer payments and enabling people to transact with each other in total confidence.
Since then, we've completed the Barclays Accelerator Programme, powered by Techstars. We've become fully authorised and regulated by the FCA for payment services. We've announced a ground-breaking partnership with VISA in order to expand our product offering and help more businesses and consumers. We've built out our team by hiring passionate technologists, designers, marketers, legal and compliance experts who share the same vision of making the payments ecosystem a safer place for all. And most importantly, we've helped countless customers buy and sell securely when dealing with people they don't know.
Much has changed, but our core mission remains the same – helping people and businesses to deal with anyone, anywhere with total confidence. We're proud to transition from start-up to scale-up, and excited about the next phase of our journey.


-

Find out more about Shieldpay, or let us know your thoughts by leaving us a comment or chatting to us on Twitter, we'd love to hear from you!