Following an outstanding start to 2021, we are excited to share the news of our formal launch of Shieldpay Trust Services.
Why launch Shieldpay Trust Services?
Prior to 2020, our solutions were breaking ground across the professional, financial and legal services industries. Although a number of challenges arose last year, the Covid-19 pandemic transformed how our clients carry out business, leading to faster adoption of Shieldpay's innovative solutions. The spotlight has now been placed on efficiency and cost saving, contributing to the uptake in digitalisation, and we have seen a renewed focus on compliance, security and transparency.
Our new offering is in response to growing demand from the professional services industry to complete high value transactions requiring payments to be made in multiple jurisdictions. With our aim to be a one-stop shop for corporate transactions, trust services enables us to facilitate a greater range of transactions in multiple jurisdictions involving higher levels of complexity and increased value.
The launch is a big step forward for Shieldpay and, more broadly speaking, a big step forward for how certain payments are completed across the professional services industry; offering a digital platform solution to what can traditionally be slow and cumbersome processes.
What is Shieldpay Trust Services?
The expansion in product offering means Shieldpay can:

Facilitate

larger

and more complex transactions

Hold

funds

for longer

periods

of time

Handle transactions

in

40+

jurisdictions

S

et the foundations for offering wider services that can come under this model

in the future



Launching Trust Services builds on the already established portfolio of digital payment solutions and is born out of the Shieldpay Group's customer-first approach, putting ease and efficiency at the core of the service offering. As with all our offerings, Trust Services includes customer due diligence and onboarding, digital authorisation, real-time visibility of fund status and access to statements and audit trails.
Shieldpay Trust Services will be available to facilitate the following types of transactions:
Paying Agent
Corporate Escrow
Mergers and Acquisitions
Asset Purchases
Commercial Real Estate (construction, sale or security payments, rent deposits)
Lending and collateral transactions
Litigation Settlements
Travel Trusts
Personal Protective Equipment (PPE)

Foot Anstey advised us on the legal and regulatory implications of the proposals to develop our offering. Alan Hughes, Partner in Foot Anstey's Financial Services Team commented:
"Shieldpay's innovative approaches to the technical and legal challenges associated with the provision of a digital first solution to this sector is exciting. We were pleased to be able to bring to bear our extensive experience of the complex regulatory issues and trust structures to this very specific use case and provide a solutions-led approach enabling Shieldpay to bring their solution to market quickly to meet client demand."
Geoff Dunnett MD of Shieldpay says:
"The addition of Trust Services to the Shieldpay solutions portfolio is a great next step to expand our offering to the legal sector and their clients as we aim to become the one-stop shop for firms to handle all their transactional needs. Our solutions come into their own where the value, complexity or type of transaction sits outside of a firm's regulatory permissions and operational risk appetite."
----------------------------------------------------------------------
For more information on Shieldpay's Trust Services offering, please email Nabila Kazi.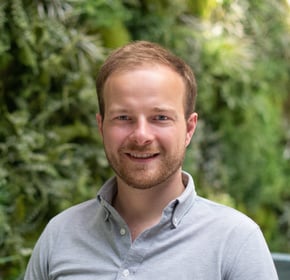 Geoff Dunnett
Geoff Dunnett is Managing Director of Shieldpay and part of the company's founding team. Geoff is a qualified solicitor and practised as a Project Finance lawyer at Milbank, Tweed, Hadley & McCloy LLP and Mayer Brown International LLP, before working as an independent legal consultant to start-ups and as a Business Associate for the Techstars-Barclays tech accelerator. ​