Shieldpay has collaborated with experts from across the legal industry to release an eBook discussing what the future may hold for the transaction management lifecycle. Each chapter covers a subject at the forefront of industry conversation, considering the potentiality of new technology and how legal services could change with the intervention of digital tools
While emerging technologies have vast potential to fundamentally change how work is carried out in almost every industry globally, there are still large steps to be taken in the legal industry to fully embrace the new opportunities. There are clear signs for growing interest, including vast investment in the increasing number of legaltech companies, but there are still obstacles to overcome, further developments to be made to the tools and, critically, work to be done to open the minds of legal professionals to embrace a more digital-led approach to service delivery.
The book is divided into three sections, reflecting the three key stages of the transaction management lifecycle: build, manage and complete. However, there is an emerging fourth stage which is discussed in the book. Increasingly, lawyers are considering what happens after the deal is completed – how can the loop be closed? With all the data being collected from start to finish, how can firms start to add more value to their service? More conversations are being had in all areas of the industry around where and how can technology be introduced to enhance how lawyers conduct themselves, improving the quality and delivery of their work to ultimately generate more business.
We answer these big questions, and more. Our contributors tackle some of the most talked about digital innovations in the industry, such as automation and Artificial Intelligence (AI), blockchain and data as well as consider their applications, the barriers to adoption and how deal teams could change as a result.
The contents:
Foreword


Geoff Dunnett, Shieldpay
Build
Beyond diagramming: How are visualisation tools changing the game for deal planning and structuring?




Owen Oliver, Head of Product, StructureFlow

How will document formats change in the future?




Richard Mabey, Co-founder and CEO, Juro

How has deal due diligence changed and where is the next frontier?




Tara Waters, Partner & Head of Ashurst Advance Digital, Ashurst

Will and/or when will blockchain have a part to play?




Nick Watson, Managing Director, Ruby Datum
Manage
How will data be used to drive deal terms in the future?




Anthony Rose, Co-founder and CEO, SeedLegals

Does technology actually help when you're at the coalface?




Lawtomated.com

Will the communications between parties move on from email?




Ed Boal, Director and Head of Legal Operations, Stephenson Law

What are the barriers to the use of legaltech tools and how can law firms avoid them?




Daniel Grant Smith, Head of Engagement, Legatics

What will the deal team of the future look like?




Zahir Nayani, Partner, Foot Anstey
Complete
Has technology fundamentally changed the way transactions are closed or has the process only been slightly improved?




Jack Shepherd, Legal Practice Lead, iManage

Data in my contracts: why should I care?




Eliot Benzecrit, Director, Avvoka

What will transaction payments look like in the future?




Nabila Kazi, Sales Director, Shieldpay
The eBook is now available - click here to download your copy.
----------------------------------------------------------------------

Shieldpay is a market leader in providing digital payment solutions across the legal, financial and professional services industries. Our clients range from large established top 100 law firms such as Cooley, Addelshaw Goddard, Macfarlanes and Shoomsiths, to medium size and small firms as well as lenders including OakNorth and Avamore Capital.
Want to learn more about transaction payments? We'd love to hear from you. Please get in touch with Geoff Dunnett to discuss.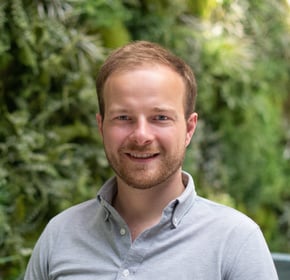 Geoff Dunnett
Geoff Dunnett is Managing Director of Shieldpay and part of the company's founding team. Geoff is a qualified solicitor and practised as a Project Finance lawyer at Milbank, Tweed, Hadley & McCloy LLP and Mayer Brown International LLP, before working as an independent legal consultant to start-ups and as a Business Associate for the Techstars-Barclays tech accelerator. ​