Geoff Dunnett focuses on the top trends for 2022 and how payments technology is key to grabbing the new business opportunities, streamlining operations and boosting client service.
----------------------------------------------------------------------
The conversation around the future of the legal industry focuses on the benefits of emerging technologies, such as AI and blockchain, but this is looking far down the line of technological development. With this focus on the far-out possibilities, many lawyers have overlooked a significant opportunity in the here and now: payments.
Over the course of 2021, we have seen key changes in attitude and use of our payment solutions by legal services and we anticipate this to accelerate in 2022 and beyond. Here are our top five trends in legal payments for the coming year:
1. Catch the M&A wave
Over the last 12 months, we have seen increasing demand from corporate lawyers to outsource paying agent services and move away from handling client money. We expect this trend to continue. Between an increasingly difficult regulatory environment, time pressures and administrative burden, law firms want to remove unnecessary risk and reduce the workload of their teams.
Resurgence of M&A activity
Where we have seen this most is in the M&A space. The market has bounced back quickly post-pandemic, with this year seeing activity levels peak after the lows of last year. By August of this year, the global market had surpassed the full tally of 2020. However, this increase in volume is not easy to manage and the average time to close an M&A deal has risen more than 30% in the last decade. Timelines are lengthening due to increased complexity in the deal-making environment. A key factor of this for the UK has been emerging regulatory concerns, mostly stemming from the changes to laws and regulations brought about by Brexit.
Outsourcing paying agent services
With higher volumes, many firms risk falling off the pace and so it is essential to outsource their payments and rely on a trusted partner to push deals over the line quicker. Importantly, they need to work with a company able to conduct due diligence, manage high volumes of payments globally, and complete transactions at pace. For the fastest speeds, firms are using a technology-led payments service. With a digital platform, Shieldpay is able to expedite the information gathering, contracting and due diligence stages and, critically, pay out funds across the world as and when the parties agree.
Earlier involvement of the payments provider
In order to ensure deals are closed in a timely and seamless manner, lawyers are seeking out their paying agent provider earlier in the deal cycle. Where payments have often been an afterthought in the final stages of the process, it is becoming apparent that there needs to be more consideration of the closing mechanisms ahead of time. By planning payment processes earlier, law firms are able to inform all parties involved of the financial processes and conduct the necessary due diligence in advance, enabling a slicker closure. This trend is especially relevant to deals with increased complexities, such as high numbers of parties involved or multiple jurisdictions. To assure you ride the M&A wave throughout 2022, it is critical that payment services meet client expectations.
2. Emphasis on security of payments
Cyber and financial crime have come up regularly in conversations with our clients. This topic has grown in importance as law firms have become more aware of their vulnerabilities. In recent years, firms have become key targets for cyber-attacks due to the vast amounts of money and personal data they hold and client accounts have been used as vehicles for money laundering and fraud. With increasing regulatory pressures to reduce their cyber-exposure and close avenues for financial crime, security has become one of their top priorities for 2022.
By outsourcing the management of client money, conducting robust due diligence checks and holding all funds in safeguarded tier 1 bank accounts, legal teams and their clients are able to have peace of mind that these risks have been mitigated.
3. Payments playing a critical role in brand reputation and client service
The conversations in the industry around enhancing client service aren't anything new. Law firms have increasingly been focused on the quality of their services and building relationships with their clients for some time. However, more lawyers are now realising the role payments plays in business development and brand reputation.
At the end of a legal matter, clients want to either know that their funds are being paid to the right people or that they are receiving their owed monies safely and without complication.
4. Class action compensation
Since we introduced our Third-Party Managed Account ("TPMA") solution in 2019, we have been working with law firms, lenders and other financial services to manage their client account function. For our clients, using a TPMA reduces regulatory, operational and administrative burden.
This year, we have seen new opportunities in the legal space to service class action payments. The class actions and group litigation space is opening up in the UK with increasing numbers of actions being filed for corporate wrongdoings affecting large numbers of consumers in areas such as data breaches, environmental damages and human rights violations.
5. Providing a choice of payment methods
Giving clients a choice of how they will be paid is a trend we are seeing for next year. Attitudes towards payments are changing in our everyday lives. Consumers now expect greater levels of service, speed and convenience. We will see these expectations bleed into the professional space.
Currently, bank transfers are the most common form of payment. In class action use cases, our provision of bank transfer is a relatively new offering with paper checks having been the traditional choice. Now, however, new digital card products are opening up the options greatly and we will see more payment companies join us in considering broadening the offering to allow clients to choose what mode of transfer suits them.
This article first appeared in The Wize December 2021 edition. You can read the magazine in full here.
----------------------------------------------------------------------

Shieldpay's technology-led solution provides Third-Party Managed Accounts (TPMA), corporate escrow and paying agent services across the professional, financial and legal services industries. Get in touch to find out more.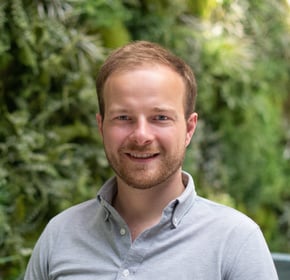 Geoff Dunnett
Geoff Dunnett is Managing Director of Shieldpay and part of the company's founding team. Geoff is a qualified solicitor and practised as a Project Finance lawyer at Milbank, Tweed, Hadley & McCloy LLP and Mayer Brown International LLP, before working as an independent legal consultant to start-ups and as a Business Associate for the Techstars-Barclays tech accelerator. ​