The last couple of months have seen an intense period of uncertainty and change for all businesses across the United Kingdom and beyond. This article will discuss the impacts of COVID-19 on the automobile market. While the battle against the disease is far from over, and the full extent of the implications of the virus on society and the economy are unclear, many businesses are using this as an opportunity to reshape their way of thinking and trading, in an ever-changing direction.

Impact on the car market
The impact on most markets has been significant, however the automobile industry has seen a sharp downfall. Dealerships are closing across the globe and economic activity has stopped. With the falling stock market bruising customer confidence, activity on dealership portals has ground to a halt. Autovista Group reported a 65% drop in sales through online automobile portals, with a 32% drop reflected in the UK (because of the slow up-take in social distancing and lock-down) and a 45-69% drop in sales across France, Germany and Spain.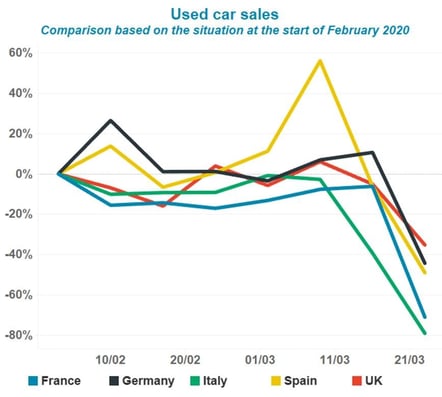 Source: Autovista Group

This month, Wired magazine reported that "European car makers have begun temporary factory closures amid health concerns for employees, falling demand and severe disruptions to the manufacturing and supply chains." With more than 80% of the world's auto supply chain connected to China, the consequences of China being on a tight lock down since January to slow the spread of the virus has affected the Western world significantly. Although China has slowly started re-opening its factories, production rates will still remain low due to the lack of demand from the market in Europe.

What are businesses doing to re-think their ways of working?
For businesses to survive and thrive throughout and after this pandemic, new ways of working must be practiced. The recent COVID-19 Special Report from AIM Group delves into this new era for marketplaces and how businesses should be reacting (link for report at bottom of this article). Social distancing rules are expected to be practiced long after the UK lockdown has been lifted and is allowing forward thinking companies to come up with new functionalities within their business development.
AIM Group picked out a few of their favourite incentives:
Cazoo, a new UK based, car marketplace has raised £100 million to move its focus to online sales. The new process will allow its customers to complete the full purchase cycle online, with delivery options and a seven-day money back guarantee.
Buyacar.co.uk is also a UK car marketplace that already has a deliver to door functionality. The marketplace is currently in the process of arranging contactless handovers for those with pre-existing medical conditions.

And finally, auctioneers Manheim, have closed the doors to its UK automobile auction centres, following government advice. The auctions will instead be held in an online forum.

How Shieldpay can help
AIM Group explain that "lockdowns are accelerating demand for contactless delivery of goods and services. Marketplaces, already well positioned with online presence and infrastructure, are stepping up their efforts in this area" (4).
Shieldpay have in the recent weeks seen an influx of interest from the automotive sector as businesses are looking to move their offerings to an online capacity. Traditional physical dealerships are moving their showrooms online, auction houses are running their auctions on their websites and the prospect of home deliveries is being more poignant.
Shieldpay's online escrow service allows individuals or businesses to pay for goods and services, with the money held in escrow until actioned for release. Shieldpay protects buyers and sellers in any transaction by verifying the identity of both parties, securing the funds from the buyer and releasing them only when both parties agree​.
​-----------------------------------------
Shieldpay is fully authorised by the Financial Conduct Authority as a payment institution under the Payment Services Regulations and already works with an existing network of banks.
For more information on using Shieldpay as an escrow solution within your automotive marketplace, please reach out directly to csnowball@shieldpay.com